Main content starts here, tab to start navigating
Menus
Slide 1 of 6
Slide 2 of 6
Slide 3 of 6
Slide 4 of 6
Slide 5 of 6
Slide 6 of 6
Starter
Bibb Caeser

"our version of the classic" crisp bibb lettuce, imported parmesan, house-made Caesar dressing, thyme butter croutons, marinated white anchovies

Tomato Soup

rich tomato basil soup with chive oil – V/VG

Poke Bowl

Ahi tuna, cucumber, scallions, ginger, sesame oil, gluten free soy sauce over steamed jasmine rice – GF

General TSO'S Cauliflower

Fried cauliflower bites in sweet tangy ginger soy chili sauce with sesame, scallions – V/VG/GF
Entree
Grilled Chicken

Miso ginger marinated grilled hormone free chicken breast, baby bok choy, steamed jasmine rice, soy lime ginger glaze – GF

Scottish Salmon

Oven roasted salmon, organic brown sugar spice rub, orange sauce, red potatoes, sauteed spinach, watercress pink grapefruit salad – GF

Beef Stroganoff

Thin sliced seasoned beef, sauteed with onions, mushrooms, thyme, sweet cream and sour cream served over herb buttered noodles

Pork Schnitzel

Crispy fried breaded pork loin, mashed potato, asparagus, arugula tomato salad, lemon caper sauce

Cauliflower Steak

Grilled cauliflower, ratatouille of eggplant, tomato, onion, pepper, yellow and green squash, fresh thyme, chefs blend mushrooms, aged balsamic, chili oil
Dessert
Tiramisu

Lady fingers, expresso, mascarpone sweet cream, chocolate

Creme Brulé Three Way

Cardamom peach, lemon verbina, vanilla

Black Forest Cake

Rich chocolate cake, vanilla cream and dark cherries, shaved dark chocolate
Three Course Dinner $56 Plus Tax and Gratuity
Experience a delightful Sunday afternoon at Willie's!
Step into a world of charm and elegance as you immerse yourself in our unique take on the beloved British tradition of afternoon tea. Whether you're celebrating a special birthday, hosting a memorable baby shower, or simply savoring the moment, we cordially invite you to join us for this exceptional afternoon tea experience.
Every Sunday from 3 PM to 5 PM, we transform your afternoons into a tea lover's paradise. To ensure your spot at this exquisite gathering, advanced reservations are an absolute must.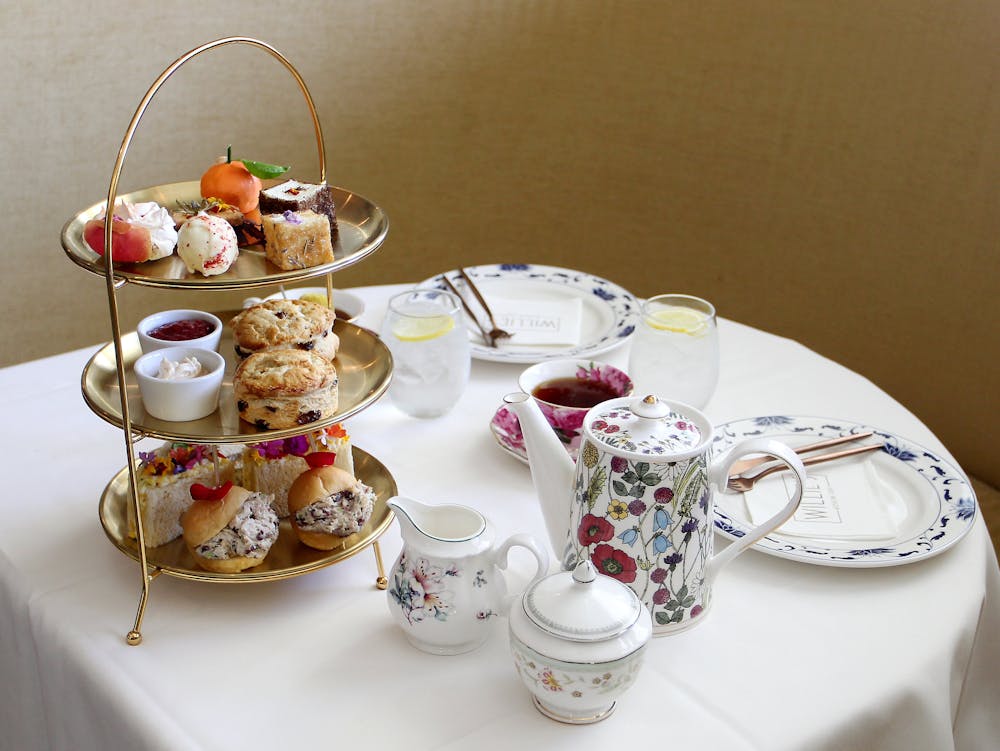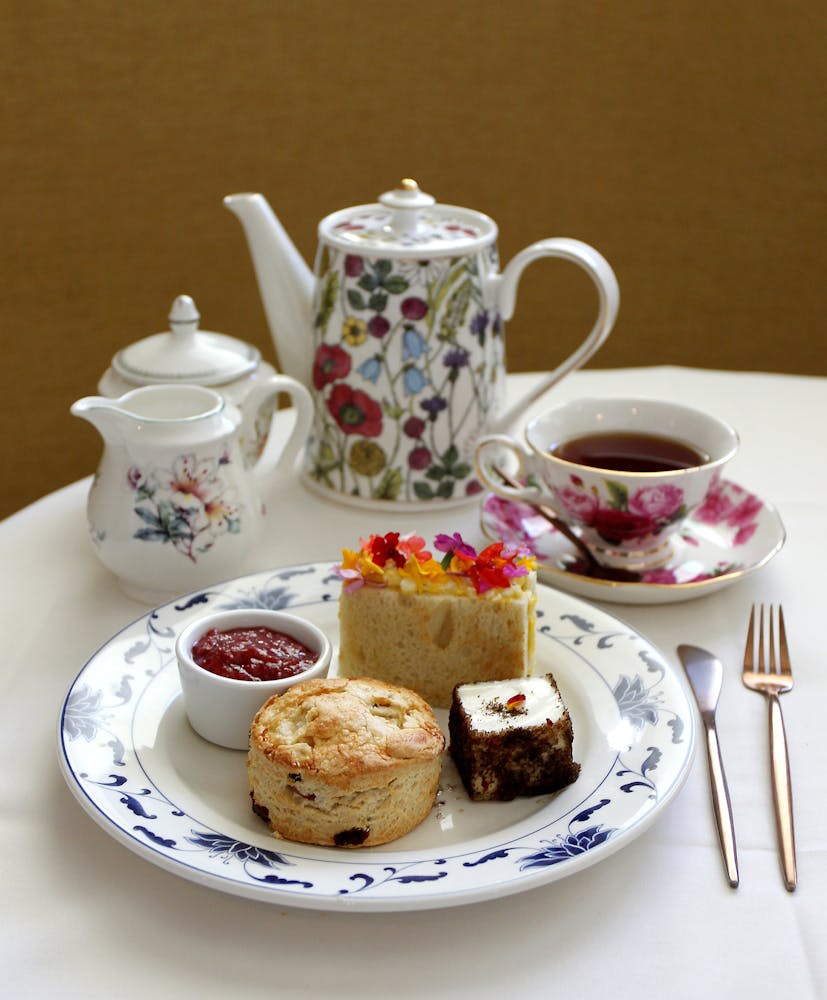 AFTERNOON TEA MENU
SANDWICHES

 
SMOKED SALMON
Imported Sottish smoked salmon, dill crème fraiche, rye bread
CLASSIC EGG
Creamy egg salad nestled between slices of soft white Pullman bread, adorned with delicate edible florals
CHICKEN SALAD
Succulent chicken salad infused with dried cranberries and walnuts, served on a buttery brioche bun with a drizzle of kale pesto
SCONES
Plump sultanas baked into our delightful scone, accompanied by our house-made strawberry jam and rich, velvety clotted cream, crafting a truly regal indulgence.
Handcrafted sweets by Cake & Cakes
coffee chocolate cake spheres filled with Chantilly cream ringed with pistachios and edible blossoms
Lemon lavender sugar crystal-crusted cheesecake cubes with edible petals
Vanilla bean mousse mandarins filled with orange marmalade, covered in white chocolate and lickable citrus leaf
Shortbread Maple Leaf sandwich cookie filled with caramelized coconut, almond, pecan cream and edible florals
LOOSE LEAF TEA
One Love Tea has been known for providing beautifully hand-crafted Artisan Tea blends since 2010, locally curated from Savory Spice
blood orange black tea
Bright blood orange flavor with the rich flavors of the Assam black tea, slightly tart and sweet.
Vanilla Earl grey
traditional notes of the Earl grey of England. Enjoy the benefits of black tea for the body
Tropical Paradise green tea
light and fruity, sencha green tea with hints of tropical flavors.
Oolong tea
rich and smooth oolong tea with an earthy green leafy flavor
Cinna Chai Rooibos
South African red rooibos combined with ginger and cinnamon provides a natural caffeine-free tea with a unique flavor malty flavor
"In a nod to a bygone era, we graciously present Yorkshire Tea to those among us who appreciate the timeless elegance of tradition."
YORKSHIRE GOLD
Yorkshire Tea is made by Taylors of Harrogate, a third generation Yorkshire family business born in 1886
$48 per person
BRUNCH BRUNCH COCKTAILS
ROAST GARLIC BLOODY MARY 14
House made with Drakes Organic Vodka
MIMOSA WITH TWO REFILLS 14
Orange, cranberry, passion fruit, grapefruit, pomegranate
WHITE PEACH BELLINI 14
White peach puree, peach schnapps with champagne
VIOLETA ROYAL 14
French cassis, crème de violate with champagne
CITRUS MINT WHITE WINE SANGRIA 14
Crushed assorted citrus, fresh mint, Cruzan white rum, white wine
Ask about our sober selections.
BRUNCH FARE
HAM CARBONARA
Smoked country ham, sweet onion, cherry tomatoes, garlic, parmesan cheese, sweet cream, egg yolks, parsley and black pepper, pappardelle pasta 26
CHICKEN and WAFFLE
Belgium waffle, willie's fried chicken, whipped honey butter, vermont maple syrup 23
SALMON CAKES and EGG
Scottish salmon, bermuda onion, sweet peppers, fresh dill, grilled asparagus, poached duck egg and orange hollandaise sauce 27
POLENTA and SHRIMP
"our play on grits and shrimp" soft polenta with parmesan cheese, large shrimp, warm tomato onion relish, caramelized pearl onions, parsley, chive oil 26
WILLIE'S SCRAMBLE
Three eggs scrambled with cremini mushroom, scallions, roasted piquillo peppers, manchego cheese, willie's breakfast potatoes (GF) 24
VANILLA FRENCH TOAST
Think sliced brioche bread, vanilla whipped cream, fresh berries, applewood bacon or sausage, vermont maple syrup 21
PRIME RIB AND EGGS
Our slow roasted prime rib of beef, au jus, three eggs, willie's breakfast potatoes 29
THE BENEDICT
English muffin, poached egg, virginia ham, orange hollandaise sauce, willie's breakfast potatoes, baby greens with citrus vinaigrette 26
Add to your meal applewood bacon or sausage 6
Toast 4
2 eggs any style 7
SALAD NICOISE
Seared ahi tuna, haricot vert, boiled potato, kalamata olive, hardboiled egg, shaved red onion, oven dried tomato, baby greens tarragon vinaigrette (gf) 26
BABY GREENS
Mixed greens, cucumber, heirloom baby tomatoes, watermelon radish, thyme butter croutons, classic Russian Dressing (VEG) 14
BABY ROMAINE
Grilled california baby romaine lettuce, heirloom baby tomatoes, purple ninja radish, herb roasted cauliflower flowerets, vegan green goddess dressing (VEG/VEGAN) 14
Add to your salad grilled chicken 7 or salmon 9
AMUSE BOUCHE
Chefs' selection
APPETIZER
select one
WINTER PEAR SALAD
Crisp pear, pomegranate seeds, french cucumbers, hothouse heirloom tomatoes, baby mixed greens, watermelon radish, tarragon chive vinaigrette
HOLIDAY BUTTERNUT SOUP
Butternut squash, nutmeg, almond milk, pepper coconut yogurt (V-VEG)
CHEF'S CARPACCIO
thinly sliced beef rare, Dijon mustard, baby kale, lemon zest, extra virgin lemon oil, shaved parmesan, cracked black pepper, grilled lemon half
ENTREE
select one
BACON WRAPPED FILET
Prime beef filet with applewood smoked bacon, point reyes blue cheese mashed potato, buttered asparagus, classic cabernet wine sauce
CORNISH GAME HEN
Oven roasted soy lemon hen, baby bok choy, jasmine rice, soy lime ginger glaze, pickled ginger toasted sesame
TURKEY CREPE'S
Roast hormone free California turkey breast, sage stuffing with dried cranberry, yam puree, roasted herb gravy, brussels sprouts with bacon
S.S.S. SEAFOOD KABOB
Skewered salmon, scallop and shrimp grilled over mesquite, brown basmati rice, buttered green beans with roasted maine lobster sauce, tarragon oil, fresh herb (GF)
CAULIFLOWER STEAK
Grilled cauliflower, ratatouille of eggplant, tomato, onion, peppers, yellow and green squash, fresh thyme, chefs blend mushrooms, aged balsamic, chili oil (V-VEG-GF)
FINALE
select one
BÛCHE DE NOËL - YULE LOG CAKE
Moist chocolate cake rolled with vanilla cream filling, imported dark chocolate frosting, fresh berries, whipped cream
ILE FLOTTANTE
Chefs Interpretation of Floating Island – crisp whipped meringue, passion fruit sauce, fresh berries, mint oil, petit fours
RASPBERRY AND LEMON SORBET WITH FRESH BERRIES (V-VEG-GF)
SERVING FROM 2PM – 8PM
$85 per person plus tax and optional gratuity
NEW YEARS EVE 2023
AMUSE BOUCHE
prosciutto, mission fig, gorgonzola cheese, candied walnut, rosemary oil
APPETIZER
choice of one
LOBSTER BISQUE
rich cream based soup, Maine lobster meat, sweet, orange tobiko caviar, chives, and herb oil
WINTER CITRUS SALAD
roasted butternut squash, toasted pumpkin seeds, dried cranberry, shaved fennel, arugula, imported 12 year old aged balsamic vinaigrette (V-VEG)
CHEF'S CARPACCIO
thinly sliced beef rare, dijon mustard, baby kale, lemon zest, extra virgin lemon oil, shaved parmesan, cracked black pepper, grilled lemon half
TROU NORMAND
ENTREE
choice of one
GRILLED SCOTTISH SALMON
ratatouille stuffed artichoke, green pea puree, cauliflower champagne emulsion
CORNISH HEN
preserved lemon herb roasted hen, wild rice pilaf, honey glazed baby carrots, bourbon herb butter
NEW YORK STRIP STEAK
prime dry-aged New York strip steak, loaded mashed potato with chive, cheddar cheese bacon honey baby carrots, and herb butter in house-made steak sauce
CLASSIC BEEF FILET MIGNON
buttered mashed, sautéed mushroom, asparagus, winter black truffle port demi-glace
FINALE
choice of one
MINI COCONUT CREAM PIE
butter crust, coconut cream whipped cream, toasted coconut, presented with coconut sorbet
ILE FLOTTANTE
Chefs Interpretation of Floating Island – crisp whipped meringue, passion fruit sauce, fresh berries, mint oil, petit fours
$98 per person plus text and optional gratuity
SERVING FROM 5PM – 8PM
Executive Chef – Richard Perez • Sous Chef – Oscar Barajas
Beginning Fare
Charcuterie

Cow, goat, sheep cheeses, imported cured and smoked meats, dried fruit, fresh berries, apricot preserves, toasted marcona almonds, candied nuts

$32

Chef's Carpaccio

Seared thin sliced rare beef filet, rosemary Dijon mustard, baby arugula, capers, shaved parmesan cheese, first press extra virgin oil, fresh grilled lemon

$21

Raviolo of Butternut

Ravioli of roasted butternut squash, aged balsamic vinegar, pumpkin seed granola, blood orange reduction

$16

vegetarian

General TSO's Cauliflower

Fried Cauliflower bites in sweet tangy ginger soy sauce with sesame, scallions

$15

vegetarian, vegan

The Classic Wedge

California central valley iceberg lettuce, sweet slivered red onion, oven dried roma tomatoes house blue cheese dressing, crumbled point reyes blue cheese and chives

$15

gluten free

Roast Beet

Baby red beets, cucumber, whipped black pepper crème fraîche, micro herbs, nut free kale pesto and california extra virgin olive oil

$16

gluten free, vegetarian

Strawberry Salad

Baby greens, fresh strawberries, cucumber. cherry tomato, watermelon radish, tarragon green goddess dressing

$15

gluten free

Demitasse Trio of Soup

Cream of asparagus/lemon oil, wild mushroom/truffle oil, roasted tomato/chive oil

$14

vegan

Shrimp Cocktail

Four large dill lemon poached shrimp, classic cocktail sauce, cucumber, avocado, lemon

$24

Asparagus Egg

Grilled asparagus, poached duck egg, whipped boursin cheese, truffle dressing, pink peppercorn, American black caviar

$24
Main Fare
Shrimp Pappardelle

Ribbon style pasta tossed with lemon, parsley, basil, garlic, ricotta cheese, parmesan and white wine, topped with grilled marinated jumbo shrimp.

$29

dairy

Cauliflower Steak

Grilled cauliflower, ratatouille of eggplant, tomato, onion, pepper, yellow and green squash, fresh thyme, chefs blend mushrooms, aged balsamic, chili oil

$27

gluten free, vegan

Scottish Salmon

Oven roasted salmon, organic brown sugar spice rub, orange sauce, red potatoes, sauteed spinach, watercress pink grapefruit salad

$48

gluten free

Patagonian Seabass

Pan seared seabass over arugula, green beans, roasted red peppers, wild mushrooms, clover honey glaze

$49

Breast of Duck

Sous vide sonoma duck with luxardo dark cherry glaze over celery root puree, southwest corn succotash

$43

gluten free

Grilled Chicken

Miso ginger marinated grilled hormone free chicken breast, baby bok choy, steamed jasmine rice, soy lime ginger glaze.

$29

Beef Stroganoff

thin sliced beef filet sauteed with onion, mushrooms, thyme fresh creme and sour cream served over herb-buttered noodles

$32

Pork Chop

14oz grilled marinated boneless berkshire pork, buttered mashed potato, balsamic brussels sprouts, baby carrots, thyme blueberry whiskey sauce

$40

New York Strip Steak

Grilled, point reyes blue cheese butter, peppercorn sauce, steak fries

$58

gluten free

Sea Scallops

Day boat scallops, creamed sweet corn infused with roasted aneheim chili, parmesan cheese, black truffle truffle oil, finished with lobster thermidor sauce

$49

Beef Filet

Pan seared grass feed angus beef, sweet butter, asparagus, fingerling potatoes with classic red wine demi

8oz $49

gluten free

Roast Prime Rib of Beef

Slow roasted prime rib au jus, au gratin potato, haricot vert

$42

gluten free
Sweet Fare
Pineapples Foster, Butterscotch Triffle

Butterscotch crème pate, pineapple coulis, pineapple

$14

Molten Chocolate Cake

Raspberry coulis, freeze dried raspberries

$14

Baked Alaska

Amarena fabbari cherry gelato, black pepper sponge cake, torched French meringue

$14

Apple Tart

Caramel sauce, haagen daas vanilla ice cream

$14

Lemon Polenta Cake (vegan)

Bayleaf sorbet, crème angli, lemon chip

$14

vegan

Trio of Crème Brule

cardamom peach, lemon verbina, vanilla, fresh berries

$14

Sorbets & Ice Creams

Ask your server for today's selections

$14
Casual Lounge Fare
Our lounge fare is only available in the Lounge
Charcuterie for Two

Cow, goat, sheep cheeses, imported cured and smoked meats, dried fruit, fresh berries, apricot preserves, toasted marcona almonds, candied nuts

$28

Mini Beef Tenderloin

Chimichurri, chive wild mushroom mashed and roasted garlic puree

$19

gluten free

Sheepherders Pie

Rich lamb stew, root vegetables, red wine, fresh herbs, mashed potatoes

$16

gluten free

Italian Grilled Sausage

Creamy soft polenta, sautéed peppers, onions, roasted roma tomatoes

$14

gluten free

The Classic Wedge

California central valley iceberg lettuce, sweet slivered red onion, oven dried roma tomatoes house blue cheese dressing, crumbled point reyes blue cheese and chives

$12

gluten free

Roast Beet

Baby red beets, cucumber, whipped black pepper crème fraîche, micro herbs, nut free kale pesto and california extra virgin olive oil

$14

gluten free

Bibb Caesar

"Our version of the classic" crisp bibb lettuce tossed with imported parmesan, house-made caesar vinaigrette, thyme butter croutons and marinated white anchovies

(Optional Vegetarian) $14

Ravioli of Butternut

Ravioli of Roasted Butternut Squash, Aged Balsamic Vinegar, Pumpkin Seed Granola, Blood Orange Reduction

$14

vegetarian

Buttermilk Fried Chicken

Braised greens, mashed

$16

gluten free

Willie's Wagu Burger

Tomato onion jam, bibb lettuce, tomato, dill pickle, steak fries

$17

gluten free

Grilled Organic Tequila Lime Chicken Sandwich

tequila lime basted chicken breast, bibb lettuce, tomato, roasted poblano chili, cilantro aioli, brioche bun, steak fries

$16

Fish and Chips

Fresh cod, beer batter, mustard greens slaw, steak fries

$18

Grilled Prime Rib Sandwich

Hoagie roll, horseradish mayo, fries or mustard greens slaw

$19

Burnt Ends

Slow smoked dry rubbed beef brisket ends, sweet habanero honey barbecue sauce, texas toast, whiskey onion rings

$19